One of my favorite Tuscan dishes is Pappardelle al Ragu di Cinghiale.  I've became determined to make this sumptuous dish!  Last night was my second time attempting this and I have to say, the flavor and texture were super close to that time we had the dish in Siena at Osteria Enoteca Sotto le Fonti. I'm very happy with how it turned out!
Here's a little bit about the making.  The process begins with marinating the meat with Chianti, sage, juniper, bay leaves, rosemary, parsley, onions, garlic, celery and carrots overnight.
When you're ready to cook (and plan for at least 3 hours of cooking time), remove the meat from the marinade and grind it in a food processor.  Start with a hot cast iron skillet and extra vigin olive oil, with a bit of rosemary and sage to flavor the cooking oil.  This is a little trick I've learned that I feel makes all the difference when cooking meat.
Then fry finely chopped onions, carrots and celery until wilted.  Add the meat and allow to cook for a bit. Then add a bit of Jamaican all spice, nutmeg, pepper and kosher sea salt.  Add the tomato sauce (and tomato juice if necessary), and cook on low heat for at least 3 hours.
And fresh pappardelle from Lucca Ravioli Company in the Mission.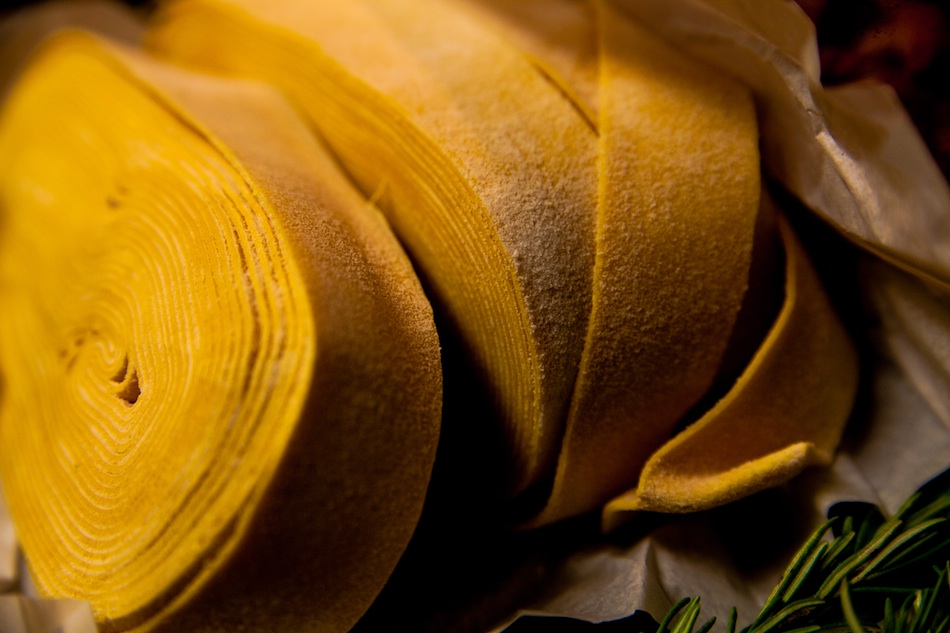 Then it's ready to be devoured! Of course, I served a wine I brought back from Italy: a wonderful Chianti Classico, a 2008 Ricasoli Castello Brolio.