I love Hayes Valley.  It's my favorite neighborhood second to the Mission of course.  In the last two years, the neighborhood has exploded with restaurants, cafes, boutiques, parks and parklets, and so much more.  And since the original Blue Bottle Coffee is located in an alleyway in the heart of Hayes, it keeps me coming back almost weekly.
So of course, first up is standing in line for some Blue Bottle Coffee and sitting on the sidewalk near by to have it.
Walk down the alleyway and turn the corner, you stumble upon what I think is the coolest food truck in SF: Pizza Del Popolo.  This is a food truck equipped with an industrial pizza oven and makes a mean Neapolitan-style pizza.  You order a pizza and you sit at an outdoors table to eat a quick bite.  This setting is so cool! It's such an awesome urban space all contained in a few blocks.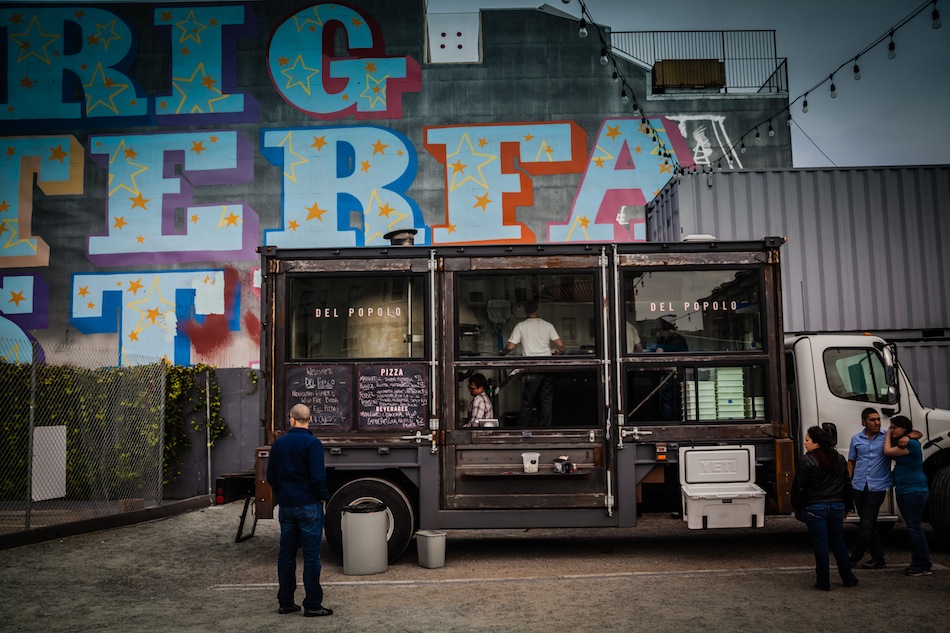 Right next door and beyond this metal fence is this ridiculous industrial structure made out of metal shipping containers.  This is the home of Aether Apparel! It's such an original space and has SF written all over it!
And only a mere steps away is Patricia's Green, Hayes Valley's dog park.  For somebody who loves dogs but doesn't own one of her own, this is the next best thing!